HSPQ Horizontal cutting machine series
HSPQ Horizontal cutting machine series
---
Horizontal cutting machine series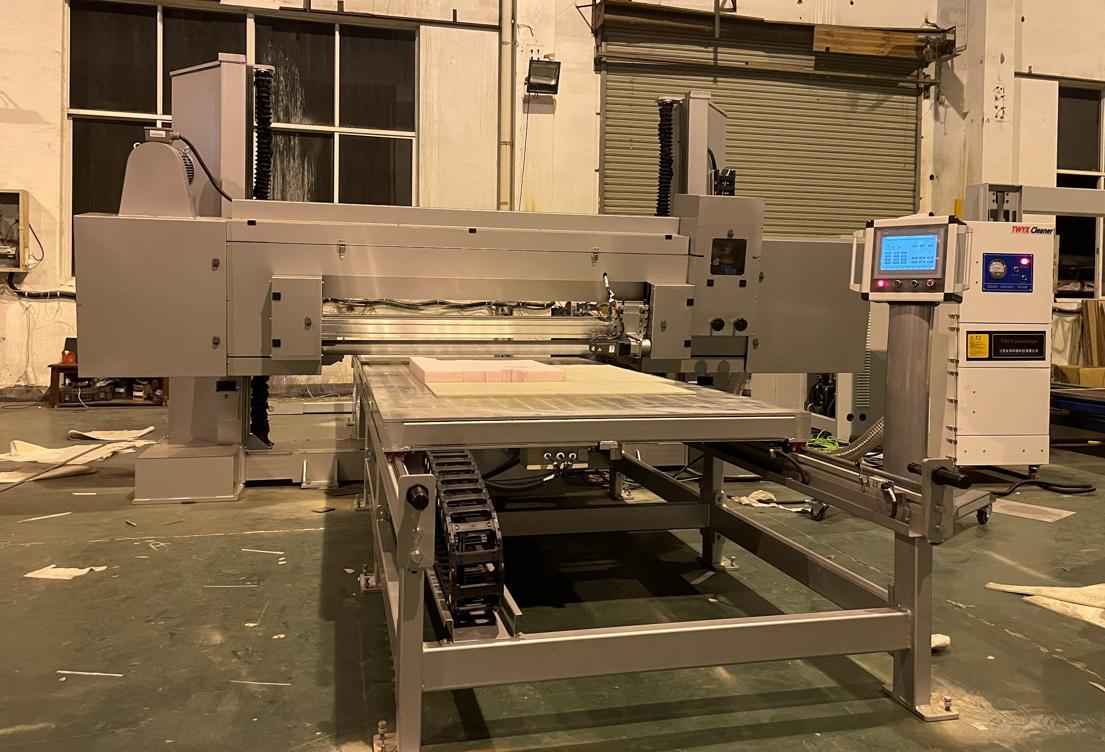 | | | |
| --- | --- | --- |
| Man technical specification |   |   |
| Model | HSPQ-WDXF-1650 | HSPQ-WDXF-2150 |
| Max.Product Size | W1650×L2000×H1200mm | W2150×L3000×H1200mm |
| Cutting Speed | 0~25m/min | 0~25m/min |
| Cutting Thickness | 3~150mm | 3~150mm |
| Cutting knife | L8940mm | L10000mm |
| Overall Power | 12.72kw | 12.72kw |
| Overall Weight | 1800kg | 2000kg |
| Overall Dimension | 5000×4000×2500mm | 7000×4500×2500mm |
High-precision flat cutting machine (soldering table suction type)
1. Cutting bubble size: 3000*2000*1200mm
Cutting thickness: 0.5~30mm (±0.05mm)
Cutting speed: 0~50m/min, no knife marks.
2. Electrical configuration: The platform operation adopts frequency conversion speed regulation. Lifting adopts frequency conversion control. Tool wheel speed and frequency control. PLC thermal relay (Japan Omron). AC contactor Schneider (France). Operation panel 15 inch touch screen. All motors are made in Taiwan.
3. Blade configuration: German blade technology, the blade is made of 65 manganese steel with a hardness of 50 degrees and a service life of five years. The upper knife adopts electric and manual fine-tuning methods. The length of the top edge is equal to the length of the blade, and the alloy is embedded.
4. The cutter wheel adopts high-chromium steel precision casting. After heat treatment, the hardness reaches more than 50 degrees. Harder than a knife belt. Ten years of service life without loss of quality.
5. Independent electric control cabinet. Independent touch screen operation platform.
6. The platform suction adopts a high-pressure fan made in Taiwan, which can effectively absorb various soft and hard sponges, PE, EVA, recycled sponges and other materials.
7. The grinding wheel is made of flat alloy steel with a diameter of 250mm, and the grinding wheel is stable.
8. The dust collector is made of stainless steel, which is beautiful and durable.
9. The hoisting drive adopts the ball screw and commutator device made in Taiwan to ensure accurate hoisting, and the bearings are all made by Japanese NSK.
10. The platform is covered with a 12mm thick aluminum plate, and after milling, the overall plane error is 3mm. The platform movement adopts silent linear guides made in Taiwan, high-precision rack drive, stable operation and low noise.