DTC E2012 Multiple Hot Wire EPS Cutter
DTC E2012 Multiple Hot Wire EPS Cutter
---
Multiple Hot Wire EPS Cutter
CNC EPS Hot Wire Cutter 0.5mm Precision 6m/Min Cutting Speed With One Wire Or Multiwires​
Description:
D&T Series Hot Wire Contour Cutter is a special cutting machine which is for complex shapes of EPS products. This kind of cutter has one or several cutting lines for differnt production request.
All the machines are driven by the remarkable D&T Profiler software. which speeds up the design processand enablesthe operator to obtain the best yield form the foam block.
Hot Wire Contour Cutter has perfect safety system to prevent accidents, It includes : All motors wil stop when the safety doors are opened, Exigency buttons on both machine and control box prevent accidents.
Specification:
| | | | |
| --- | --- | --- | --- |
| Model | DTC-E2012 | DTC-E3012 | DTC-E6012 |
| Max Product Size | 2000*1300*1000mm | 3000*1300*1300* | 6000*1300*1300mm |
| Cutting Line | 0.25-1.2mm | 0.25-1.2mm | 0.25-1.2mm |
| Control System | Industrial System | Industrial System | Industrial System |
| Cutting Speed | 0-1.5m/min | 0-1.5m/min | 0-1.5m/min |
| Power | 13.5kw 380V 50HZ | 13.5kw 380V 50HZ | 13.5kw 380V 50HZ |
| Overall Weight | 1200kg | 1500kg | 2000kg |
Application:
EPS products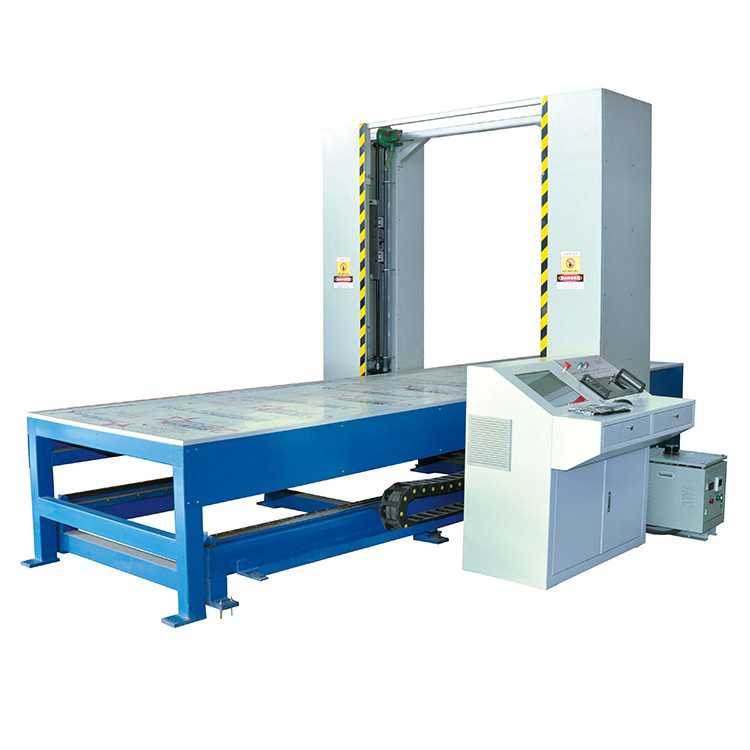 Software question:
1. Q: what kind of CAD software the machine uses?
A: For the CAD software ,our machine uses 2004 or 2006(you prefer )
2. Q: about the CAD software, what's its name?
A: The name is Auto CAD Software
3. Q: where do you sell your machines mostly? which countries?
A:our main market is Russian, Middle East, Canada,USA,Austral,Mexico,Brazil for different kind types
4. Q: the operating system which you use is windows, right?
what kind of windows? XP? or Windows 7?
A:Yes ,it is Windows XP.
When operated,Our machine doesn't need to use network
We usually use XP for its stability.Also windows 7 is OK.
5. Q:is your software licensed or it's illegal? ("cracked")
A: our own profiler cutting software is develop by ourselves. It is origina
Q:but the auto-cad and the windows? the auto-cad and the windows are original too
I am asking this question because our company use only licensed software
A:windows is licensed; AutoCAD is testing type.
our machines do not include the licensed AutoCAD
if you have any drawing software, you can make the DXF file.
6. Q:the differences between our Fast Wire CNC Cutting machine and Oscillating
Blade CNC Blade cutting Machine.
A:First,Fast wire cutters use high -speed abrasive wire and Oscillating Blade cutters
use high-speed toothed blade.
Secondly,Fast wire CNC cutter is better for the rigid or half rigid foams.and for soft foam material,
the better cutter is Oscillating Blade CNC cutter.
Thirdly,fast wire CNC cutters also can cut soft material.but the dust from the soft material
needs an extra dust pelletizing system and the soft material also is not good for the fast wire
cutter itself.
7. Q:For reputation and website:
A: for the reputation ,we are 8 years golden supplier on Alibaba.
And our engineers have researched our machine more and improved it better and better. We
promise our machine will be as good as we told. Even we keep 10% for the guarantee until to
install the machine well and the client satisfy with our machine.

Cutting finish product: