DTC S2512 Horizontal Oacillating Cutter
DTC S2512 Horizontal Oacillating Cutter
---
Horizontal Oacillating Cutter
D&T Saw blade Sponge foam oscillating profile knife
Description:
D&T Saw blade Sponge foam oscillating contour cutter is a complex shape sponge cutter.
Fast cutting speed, high vibration speed, high efficiency, good finished product.
Most importantly, there is no dust in the cutting process
All machines are accelerated by the excellent D&T Profiler software
Optimize the design process to enable operators to obtain the best yield from foam blocks.
Applications:
Polyurethane, PU foam, adhesive foam, latex, alkaline foam, composite foam, frame foam, polyethylene.
Advantage:
* PC/ IPC control, easy to operate.
* Table: flat table, mobile table (optional)
Specification:
| | | | |
| --- | --- | --- | --- |
| Model | DTC-S2512 | Control System | Industrial Computer |
| Max. Product Size | 2500×2500×1200mm | Cutting Speed | 0~6m/min |
| Cutting Line | 3 X 0.6mm | Precision | ±0.5mm |
| Power | 8.5kw 380V 50HZ | Weight | 2500kg |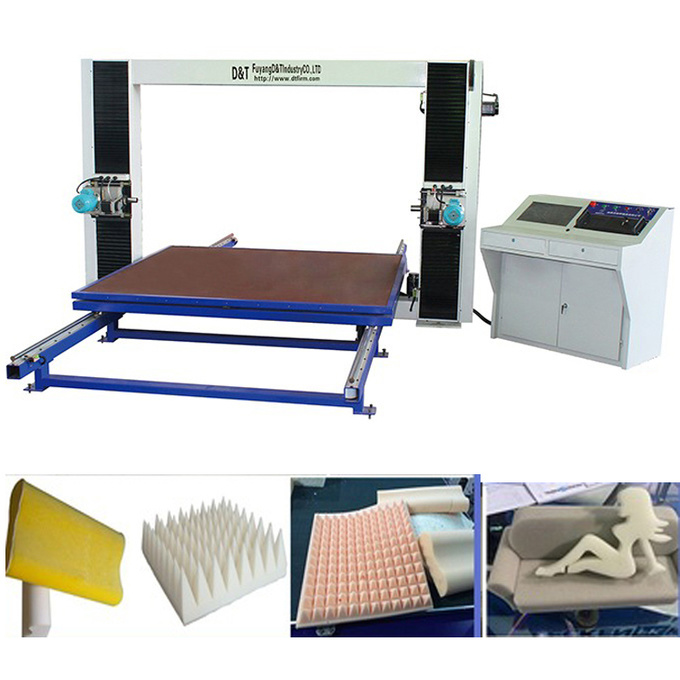 Software question:
1. Q: What kind of CAD software does this machine use?
A: CAD software. Our machine is 2004 or 2006 (your choice)
2.Q: About CAD software, what is it called?
A: The name is Auto CAD Software
3.Q: Where do you sell most of your machines? Which countries?
A: Our main markets are Russia, Middle East, Canada, USA, Australia, Mexico, Brazil and other different types of products
4.Q: You use Windows, right? What kind of Windows? XP? Or Windows 7?
A: Yes, it's Windows XP.
Our machines do not need to use the network to operate
We usually use XP because of its stability. Windows 7 will work, too.
5. Q: Is your software legal or illegal? (" cracking "
A: We developed our own subdivision software. It was
Q: But what about Auto-CAD and Windows? Auto-cad and Windows are also original
I ask because our company only uses licensed software
A: Windows licenses; AutoCAD is the test type.
Our machines do not include licensed AutoCAD
If you have any drawing software, you can make DXF files.
6. Q: The difference between our fast line CNC cutting machine and swing cutting machine
Blade NC blade cutting machine.
A: First, the fast line cutter uses the high speed abrasive line and the swing blade cutter
Use high-speed toothed blades.
Secondly, fast line CNC cutting tools are more suitable for rigid or semi-rigid foam. For soft foams,
The better tool is the swing blade NC cutter.
Third, fast line CNC cutting tools can also cut soft materials. But dust on soft materials
Requires an additional dust particle system and soft materials are also not suitable for express lines
The knife itself.
7. Q: About reputation and websites:
A: In terms of reputation, we have been a gold supplier to Alibaba for eight years.
Our engineers have done more research on our machines and they are getting better and better. we
A guarantee that our machines will work as well as we say they will. We even keep 10% as a guarantee
Set up the machine to the customer's satisfaction.
Cutting Sample: